Do you have TV programmes on your hard drive that are for you to watch when you are alone and will be completely undisturbed? Programmes that your other half may find too 'fluffy' or have been repeatedly played so much that she/he groans and moans as soon as they come on the screen? I confess I do………"my name is Annie and I am addicted to Escape To The Chateau"……… I have always loved France and the French language ever since I first started learning it at school oh so many years ago. And have, more often than I should, fantasized about buying a smallholding there and trying to be self-sufficient. This programme though is a real fairy-tale come true and so it is no wonder I am so glued to it.  Dick Strawbridge, an ex army engineer and his designer wife Angela bought the beautiful chateau for £281,000 just a few years ago and the programmes follow their story of taking the uninhabited chateau  and turning it into a stunning wedding venue…….is there anyone else out there who watches it? Go on admit it….or just whisper it to me when you next visit The Chatty Couch!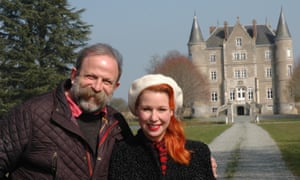 I have another confession… Dick Strawbridge is THE ONLY man I would ever leave my husband for (hubby knows this and doesn't seem worried); simply because he can make anything work. For example, Angela can say "Darling, we really need a lift, air conditioning and, oh could you please convert this old banger van into a stylish mobile gin temple while you're at it……." And voila! He's done the lot! Moustache or no moustache he has got to be worth having around. Angela isn't short of talent either; she is the visionista behind the transformation and the now burgeoning business empire.
Why am I rattling on about this?  Well, two reasons really
1)I have friends who having built their house in France now need to return to the UK and regretfully would like to sell. It isn't a chateau but it is a lovely house with everything done for you, in a beautiful area and with a gorgeous view (plenty of room to grow veggies and keep chickens too).  And so if you have ever contemplated making 'the move' or know anyone else who has would you please have a look let anyone know who you think may be interested? Thank you, just click the link below.
https://www.allez-francais.com/property/R10897E
2) we have our own little bit of titivating going on here at The Chatty Couch. While we are not having Rapunzel-style turrets fitted, we do have a lovely local artist Diane who will this weekend transform a couple of walls with her beautiful art work…..I don't want to give the game away too much, but we are really excited to see the finished work of art when we come in to work on Monday morning. She has managed to squeeze us in so that the coffee shop will look great for our Valentine's Night Bistro Evening. So pop in and see us when you are next in Hedon; we may not be an elegant chateau nestling in its own grounds but we are in our own small way a little escape from the hustle of everyday life, with great coffee, warm radiators an even warmer welcome oh, and soon……great wall art too!
Find us on Facebook   https://www.facebook.com/thechattycouch/